Tepee Herbal Tea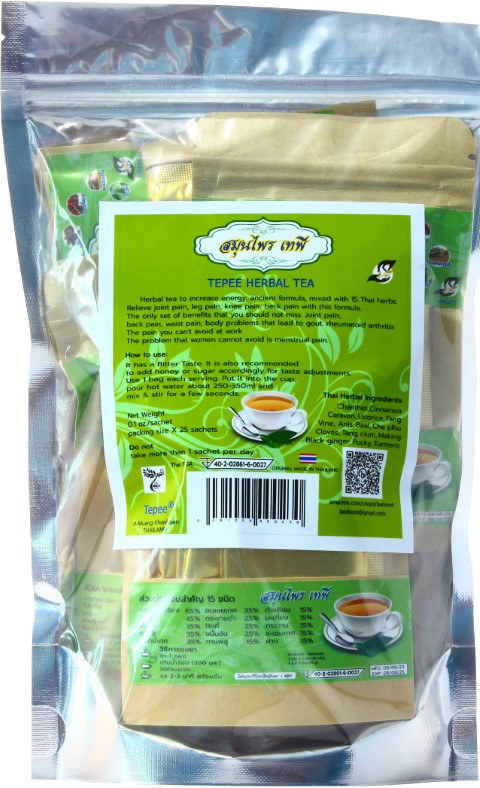 25 tea bags
Do you want to buy Tepee Herbal Tea?
You have come to the right place for buying Tepee Tea.
We sell only original Tepee Herbal Tea imported from Thailand.
Beware of fake products. Some other shops may sell a similar product called Tapee Tea or Tepee Tea, but those products may contain steroids.
They may contain hidden prescription-only drug ingredients, namely dexamethasone and piroxicam.
FDA laboratory analysis confirmed that Tapee Tea contains dexamethasone and piroxicam which are not listed on the product label.
Our product, namely Tepee Herbal Tea contains only herbal ingredients.
Ingredients:
jewel vine 65%

star anise 4.5%

bael fruit 3.5%

wild pepper 3.5%

nutmeg 3.5%

cinnamon 3.5%

Thai black ginger 2.5%

Mongolian milkvetch 2.5%

turmeric 2.5%

clove 1.5%

red sage 1.5%

ma-kiang 1.5%

Siam cardamom 1.5%

liquorice 1.5%

sappanwood 1.5%
Nature has provided a complete storehouse of remedies to cure ailment of mankind. About 80% of the world's population depends wholly or partially on traditional medicine for its primary health care needs. According to a survey (1993) of World Health Organization, the practitioners of traditional system of medicine treat about 80% of patients in India, 85% in Burma and 90% in Bangladesh. Herbal medicines, as the major remedy in traditional medical systems, have been used in medical practice for thousands of years and have made a great contribution to maintain human health. The medicinal plants are rich in secondary metabolites and essential oils of therapeutic importance. The important advantages claimed for therapeutic uses of medicinal plants in various ailments are their safety besides being economical, effective and their easy availability.
Jewel Vine Powder 65% (Derris Scandens Benth)
Derris scandens is a plant species in the genus Derris of the family Fabaceae. It grows throughout the Indian subcontinent, Southeast Asia, Malesia and Australasia. It has been used as a herb in Thai traditional medicine for the treatment of musculoskeletal pain.Derris scandens (Roxb.) Benth. has been used as active ingredient in Thai traditional medicine recipes for pain treatment.
https://www.sciencedirect.com/science/article/pii/S1018364715000038
Different extracts of Derris scandens exhibit appreciable antibacterial, antifungal and antialgal activities. Preliminary study showed that scandenin showed strong antibacterial activity and convincing antifungal and antialgal properties.
https://www.sciencedirect.com/science/article/abs/pii/S0960894X21001931
An ethanolic extract of Derris scandens flowers showed potent preferential cytotoxicity against PANC-1 human pancreatic cancer cells under nutrient-deprived condition, with a PC50 value of 0.7 μg/mL.
Star Anise Powder / Chinese Anise Powder 4.5% (Illicium Verum Hook F)
Star anise is an aromatic evergreen shrub or arboreal species native to the forests of Southeast Asia (south of China and Vietnam). Except the antiviral potential, star anise possesses a number of other potentials such as antioxidant, antimicrobial, antifungal, anthelmintic, insecticidal, secretolytic, antinociceptive, anti-inflammatory, gastroprotective, sedative properties, expectorant and spasmolytic, and estrogenic effects.Besides its use as spice in culinary, star anise is one of the vital ingredients of the Chinese medicinal herbs and is widely known for its antiviral effects. It is also the source of the precursor molecule, shikimic acid, which is used in the manufacture of oseltamivir (Tamiflu®), an antiviral medication for influenza A and influenza B.
Besides, several other molecules with numerous biological benefits including the antiviral effects have been reported from the same plant. Except the antiviral potential, star anise possesses a number of other potentials such as antioxidant, antimicrobial, antifungal, anthelmintic, insecticidal, secretolytic, antinociceptive, anti-inflammatory, gastroprotective, sedative properties, expectorant and spasmolytic, and estrogenic effects.
In medicine it is used for:
Stomach acidity

Cramps and abdominal spasms

Aerofagia, difficult digestion, flatulence, meteorism

Asthma, phlegm in the lungs, irritation of the bronchial mucosa and cough

Headaches, migraines and menstrual pains
In general it has therefore: eupeptic, stomachic, carminative and anti-diarrheal properties.
Illicium verum is used to extract the shikimic acid used to produce important antiviral drugs.
Bael Fruit Powder 3.5% (Indian bael, Aegle Marmelos L. Correa)
Bael is a plant. The unripe fruit, root, leaf, and branch are used to make medicine.
Aegle marmelos (L.) Correa (A. marmelos), commonly known as Bael belonging to the family Rutaceae, has been widely used in indigenous systems of Indian medicine due to its various medicinal properties. A. marmelos is native to Northern India, but widely found throughout the Indian Peninsula and in Ceylon, Burma, Bangladesh, Thailand and Indo-China.
Bael is used for constipation, diarrhea, diabetes, and other conditions, but there is no good scientific evidence to support these uses.
How does it work?Bael contains chemicals called tannins, flavonoids, and coumarins. These chemicals help to reduce swelling (inflammation). This might help treat asthma, diarrhea, and other conditions. Also, some of these chemicals help to reduce blood sugar.The Vitamin C concentrations in the plant help prevent scurvy, while its antioxidants can kill the free radicals in the body that cause cancer. The extracts of Bilwa leaves help control the cholesterol levels in the blood as they contain triglycerides and lipids, some of the essential fatty compounds in the blood.
https://www.ncbi.nlm.nih.gov/pmc/articles/PMC4027346/
Extensive experimental and clinical studies prove that Aegle marmelos possesses antidiarrhoeal, antimicrobial, antiviral, radioprotective, anticancer, chemopreventive, antipyretic, ulcer healing, antigenotoxic, diuretic, antifertility and anti-inflammatory properties, which help it to play role in prevention and treatment of many disease.
Preclinical studies have shown that A. marmelos leaf extracts were effective in inhibiting the growth of leukemic K562, T-lymphoid Jurkat, B-lymphoid Raji, erythroleukemic HEL, melanoma Colo38, and breast cancer cell lines MCF7 and MDA-MB-231.
Chaplu 3.5% (Piper Sarmentosum Roxb.)
Synonyms: Chavica sarmentosa, Piper brevicauleCommon Name: Wild Pepper, Wild Betel, Kadok, Kaduk, Daun Kaduk, Chabei, Sri Tanah, Chaa Phluu, La Lot, Akar Bugu, Sirih Duduk, 假蒟, 细叶青萎藤, 青蒟
Piper sarmentosum a traditional Malay herbal plant is well known for its high antioxidant content. Antioxidant is useful in improving cardiovascular diseases particularly hypertension.This plant is anodyne, anti-inflammatory and expectorant. It is used to cure skin diseases, rheumatism, ostealgia, lumbago, oedema, headache, dyspepsia, colic, nausea, diarrhoea and toothache. It is used in combination with other plants for treating mushroom poisoning and snakebite. The leaf is carminative.
Nutmeg Puree 3.5% (Myristica Fragrans Houtt.)
Cinnamon Powder 3.5% (Cinnamomum Verum)
Black Galingale Powder 2.5% (Kaempferia Parviflora, Thai black ginger)
Astragalus Powder / Huang Qi Powder 2.5% (Astragalus Propinquus Schischkin, Astragalus mongholicus)
Synonyms including Astragalus propinquus and Astragalus membranaceus, commonly known as Mongolian milkvetch in English; 'Хунчир' in Mongolian; huáng qí (Chinese: 黃芪), běi qí (Chinese: 北芪) or huáng huā huáng qí (Chinese: 黃花黃耆), in Mongolia, is a flowering plant in the family Fabaceae. It is one of the 50 fundamental herbs used in traditional Mongolian medicine.
Turmeric Powder / Curcumin Powder 2.5% (Curcuma Longa)
Turmeric is regarded as the golden spice with innumerable health benefits. Turmeric, scientifically known as Curcuma longa belongs to the Zingiberaceae family, genus Curcuma. The crop is cultivated in the tropical and subtropical regions around the world. Turmeric originates from the Indian subcontinent and South East Asian countries. Turmeric has been used in various traditional systems of medicine like Ayurveda, Siddha, and Chinese medicine for the treatment of various diseases. The diverse applications of turmeric include use in dietary spice, foods, textile industries, medicinal and nutraceutical fields. Curcuma longa L. (of the Zingiberaceae family) is a commonly used spice throughout the world, found broadly throughout the Indian subcontinent. C. longa contains multiple active components that exhibit antiinflammatory, antimicrobial, antioxidant, antifungal, antibacterial, antiviral, antiischemic, and antineoplastic properties.
The turmeric plant is used as a traditional medicine and remedy for various diseases including a coughs, diabetes, dermatological conditions, respiratory problems, cardiovascular and hepatobiliary diseases, arthritis, irritable bowel disease (IBS).
Curcuma longa, a traditional Chinese herb, also known as turmeric, safflower, or yellow ginger, has curcumin as its main phenolic compound (Zhao et al., 2012).
Curcumin has been shown to possess a variety of pharmacological activities, including antioxidant, anti-inflammatory, cancer chemopreventive, and neuroprotective activities (Radhakrishna et al., 2004; Reeta et al., 2010; Yadav et al., 2005). Studies demonstrated that treatment with curcumin attenuated thermal hyperalgesia induced by neuropathic pain in diabetic animals (Attia, 2012; Mittral, 2009), but the mechanisms by which this action occurs are not clear yet. The researchers also found that chronic treatment with curcumin relieves neuropathic pain induced by chronic constriction injury (CCI; Zhao et al., 2012), and this effect was related to opioid and serotonergic systems activation. Chinese researchers also demonstrated the effect of curcumin through chronic treatment of animals using the same model and attributed this effect to the inhibition of astrocytic hypertrophy in the spinal dorsal horn and inhibition of ERK phosphorylation and activation of the ERK-signaling pathway (Ji et al., 2013).
https://www.sciencedirect.com/topics/agricultural-and-biological-sciences/curcuma-longa
Clove Powder 1.5% (Syzygium Aromaticum L. Merr. & L.M. Perry)
Dang Shen Powder 1.5% (Salvia Miltorrhizae, Red sage)
Makiang Powder 1.5% (Cleistocalyx Nervosum Var. Paniala)
https://www.scielo.br/j/cta/a/pxSQNL7NNF8PF3ymrzmnMrz/
Cleistocalyx nervosum var. paniala, native to Thailand and generally known as Ma-kiang in Thai, is one of the least documented plant species. Due to its richness in phenolic compounds, especially anthocyanins, C. nervosum var. paniala has been used in traditional medicine to treat several health complications. The fruits, seeds, and leaves of C. nervosum var. paniala have been reported to exhibit antioxidant, antimicrobial, anti-mutagenic, anti-carcinogenic, anti-aging, and neuroprotective properties. The extracts of C. nervosum var. paniala are non-toxic to living systems, and they also can activate the immune system.
Siam Cardamom Powder 1.5% (Amomum Tetaceum Ridl.)
https://www.ncbi.nlm.nih.gov/pmc/articles/PMC9815930/
Licorice Powder 1.5% (Glycyrrhiza Glabra L.)
Caesalpina Sappan 1.5% (sappanwood)