Storect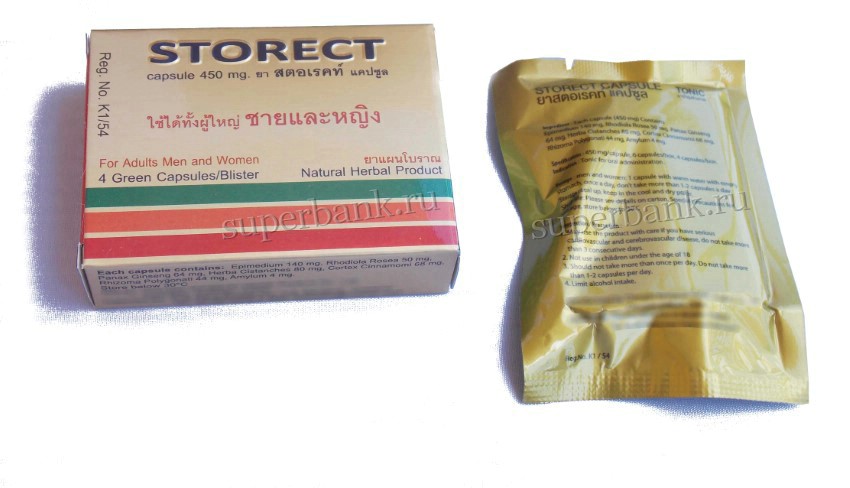 4 capsules per pack
Storect is a trademark of the product produced by Thai Saha for more than 10 years.
This product is extremely popular in Australia, Japan, South Korea, Singapore, India, Middle East, Germany, Sweden, Switzerland, Belgium, France, Canada, United States and many other countries.

What is Storect?
Storect is not a medicine. So it is not capable of curing any disease.
It is a herbal dietary supplement (food supplement). It is a sexual enhancement tonic for both men and women.

It doesn't contain any synthetic drugs. It is not a pharmacy product. You don't need to have a doctor's prescription to buy Storect.
This is a herbal product. Storect capsules contain only herbal extracts, no chemicals.
One pack of Storect contains 4 capsules.
Storect capsules are approved by FDA of Thailand, they are completely safe to be taken, and they do not have any side effects, unlike many other products for men.
Thailand FDA approval number K1/154

This sexual enhancement tonic is recommended for both men and women to improve the quality of the sexual intercourse.
The best results can be obtained when it is taken 30 minutes before sex, it is recommended to take Storect capsule before eating in order to achieve the best results.
Do not eat much food before taking Storect capsule.
Avoid drinking any alcoholic beverages before completing the sexual intercourse.
The most important ingredient of Storect capsules is Epimedium (known as horny goat weed).
This plant is famous for boosting the prolonged erection of penis. Other ingredients are increasing male and female libido (sexual arousement).

Ingredients
Each capsule of Storect (450 mg) contains:

How to take Storect capsules
Both a man and a woman should take 1 or 2 capsules of Storect per time, drink some warm water and don't eat much food before sex.
Warning: do not take more than 2 capsules per day.
If you want to take 2 capsules per day because you want to have sex all day long, you must take them at once, do not take them at different time of the day.
Keep in a dry and cool place. The expiry period is 3 years.

Caution must be taken if you have one of the following pre existing conditions:
Serious cardiovascular and cerebrovascular disease

Heart disease

High blood pressure

Diabetes
If you have one of the above medical conditions you can take Storect capsules for not over 3 consecutive days. After that you should stop taking them for at least 1 or 2 days before you continue to take Storect capsules again.

Storect capsules are not recommended for young people below the age of 18.
When taking "Storect" sexual enhancement tonic you should not drink too much alcohol.
Alcohol can reduce the effect of "Storect" sexual enhancement tonic.
It is recommended to abstain from drinking alcohol for at least one hour after taking "Storect" sexual enhancement tonic.
Download Storect Product Brochure in Adobe Acrobat PDF format: DOWNLOAD BROCHURE