Noni Face Cream (Morinda Citrofolia)
(Made in Thailand)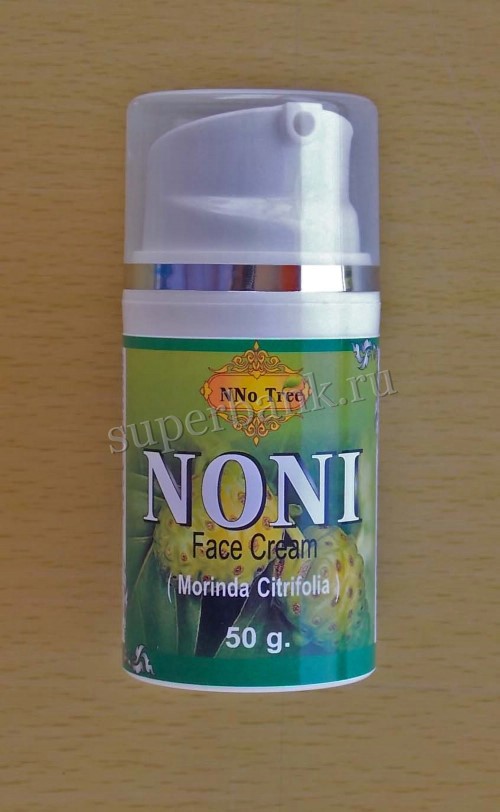 Net weight: 50 g
Noni Face Cream is a natural skin replenishing cream.
It is able to repair your skin.
It helps to slow down the aging of skin cells.
Vitamin C and high potassium concentration in noni fruit can help to slow down the aging of your skin and enhance the skin firmness.
Noni Face Cream keeps the skin smooth and soft to the touch.
It can reduce blemishes and dark spots.
Your skin looks better.
Noni Face Cream is approved by FDA in Thailand.

Ingredients:
Noni, a tropical fruit that is native to Asia, has been used as a nutritional tonic, natural medicine and beauty enhancer for centuries. Depending on the application, it is taken either orally or used topically.

Many people drink Noni juice and use products containing the extracts and enzymes in noni. Noni Face Cream is one such product.

Noni (Morinda citrofilia) has anti-fungal, anti-bacterial, anti-viral and anti-inflammatory benefits. It is rich in antioxidants with a variety of tissue-healing and immune-boosting properties. For skin, it also has gentle exfoliating properties that help rid the skin of unwanted elements.

Noni Face Cream is made from noni fruit extract combined with other cleansing and soothing ingredients. Its healing, fortifying, protective and exfoliating properties make it ideal for those suffering from any number of skin conditions.

Skin conditions Noni Face Cream can help with

Noni Face Cream is great for dry or irritated skin, or for skin that is very sensitive and needs a natural, soothing and moisturizing cleanser.

Dyshidrotic eczema, with blisters, and general eczema, which includes reptilian dry, scaly skin, are among the most common skin problems that people turn to Noni Cream for.

Those with psoriasis, a chronic skin condition with scaly patches, often use Noni Cream to keep their condition at bay. Rosacea sufferers experience inflammation and reddening of the cheeks, nose, chin, forehead and eyelids. They often turn to Noni Cream to calm the skin down, as do people who are sensitive to other products and tend to experience hives, an irritating allergic reaction.

Noni Face Cream is also popular with those who suffer from other skin conditions, including acne, ringworm or allergic skin rashes. It can be very soothing for those suffering from chicken pox or shingles as well.

Healing skin irritations with Noni Cream

People don't need to have a skin condition to reap the benefits of Noni Cream, however. Noni Face Cream packs a powerful antioxidant punch, nourishing skin and helping it maintain its elasticity and youth. Many people who once used harsh or expensive creams have turned to Noni Cream - the ultimate in skin pampering, at an affordable price.